Posted on | April 2, 2018 | 2 Comments
— compiled by Wombat-socho
Growing up as an Air force brat, I've always been fond of women in uniform, and Robert Altman's M*A*S*H had plenty of those – Sally Kellerman as chief nurse "Hot Lips" Houlihan, Tamara Horrocks as Capt. "Knocko" McCarthy, but most of all, JoAnn Pflug as Lieutenant Maria "Dish" Schneider, who saves the suicidal dentist Capt. Waldowski, the "Painless Pole". Here we have Lt. Dish detecting a heart flutter in Capt. John McIntyre.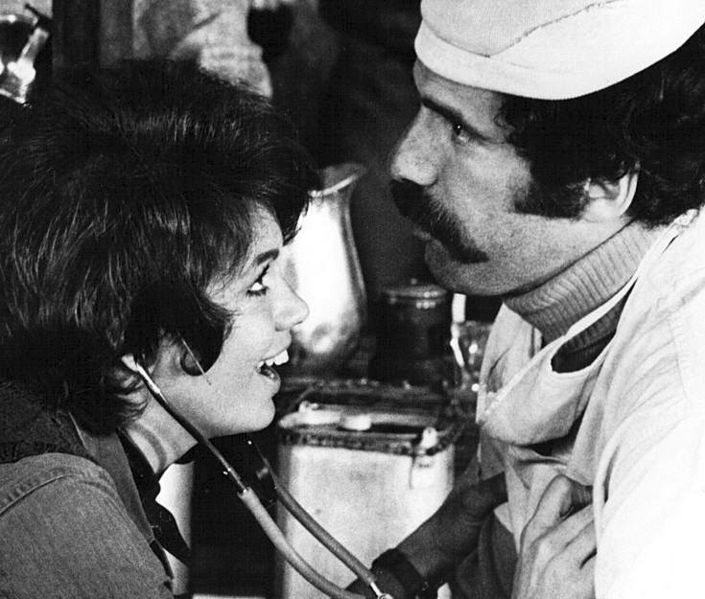 Leading off this week, it's Ninety Miles From Tyranny with Hot Pick of the Late Night, The 90 Miles Mystery Box Episode #209, Morning Mistress, and Girls With Guns. Animal Magnetism this week has Rule Five Census Counts Friday and the Saturday Gingermageddon.
EBL's thundering herd this week includes St. Patrick's Day Rule 5, The Terror, Flipping Over Spring Break, Arianna Huffington Tantric Sex Cult Rule 5, The Case Against Siblings, Historic Women With Guns, Fiordland, Intentional? and Rugby Girls.
A View From The Beach sends us Another Young Lady from Perth – Georgia Gibbs, Judge: Coffee Causes Cancer in California,  Don't Like Tests? Don't Go to the University!, Gathering Russiagate, #HerToo! "No, Stacy — Hollywood is worse", Umm, No Thanks!, "Hey Now!", Why the Four'easter? and Palm Sunday.
Proof Positive's Friday Night Babe is Danica McKellar, his Vintage Babe is Denise Darcel, and Sex in Advertising is covered by Victoria's Secret. At Dustbury, it's Shweta Bhardwaj and Amyra Dastur.
Thanks to everyone for all the luscious links!
Visit Amazon's Intimate Apparel Shop
Amazon Fashion – Jewelry For Women

Comments